Japan Adventure 2017
Rally the support of your family and friends to help you raise money for The Adventurers (The Pirate Ship Foundation Limited) as you do it.

The Adventurers (The Pirate Ship Foundation Limited) works to raise funds to find better treatments,a nd the cure for, childhood brain cancer. We rely heavily on community support, and a large portion of this is from fundraising events and activities involving dedicated people like you. The possibilities are limited only by your imagination so get creative, go over the top and let everyone know that you stand for something!

Team Japan have set a fundraising target of $127,600 to fund X-RAD RADIATION THERAPY RESEARCH FOR BRAIN TUMOURS at Telethon Kids Institute. The X-RAD small animal radiation platform has recently been acquired by Telethon Kids and is the first machine of its kind in the southern hemisphere. This instrument offers significant advantages over existing irradiators in terms of precision and accuracy of image-guided radiation targeting. It combines 3D imaging using CT and bioluminescence to locate tumours and enables precise dosing of radiation plus monitoring in real time. This equipment will enable Telethon Kids researchers to accurately test different radiotherapy regimens and better understand why some tumours fail to respond to radiation or how radiation side effects can be minimized..so what we will gain from your fundraising efforts is invaluable, and for that we cannot thank you enough!
Bike trip from Nagano Zen Koji Temple to Fuji Sengen Jinja then climb up Mt Fuji and back down to the bikes then ride to Tokyo Meiji Jingu - a week of hard riding and hiking.
It will be a tough two days trek from base to peak and back again. A true pilgrimage that Japanese used to do to appease the main Goddess Fuji San to help those in sickness to get through their ordeal.
This is considered to be a journey of the soul and, for us, a pilgrimage for the health of children affected by brain cancer.

Join dedicated Father Matt Fitzgerald on this wonderous and arduous 9 day adventure mountain hiking, road cycling, trail riding and martial arts all the while experiencing Japan's rugged natural wilderness.

Email matt@theadventurers.com.au to find out how you could join the team!
Raised so Far
$0.00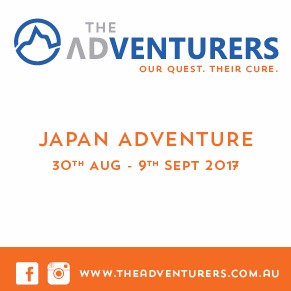 $0.00